The Green Thumb Award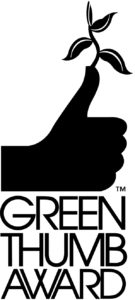 Schultz Communications created an awards program for the Direct Gardening Association (DGA) called the Green Thumb Awards. This program was designed to promote and build the sales of online and mail order gardening products by recognizing outstanding new gardening products available from websites and by mail and online.
The annual announcement of the Green Thumb Award winners enables the Direct Gardening Association to effectively promote new plant introductions and unique gardening products offered by member companies each year. As a result, the Association and its member companies receive significant positive publicity each January—the beginning of the peak garden-catalog sales season.
Schultz Communications not only invented the Green Thumb Awards, the company also created the framework for the award solicitation process and the calendar for the awards program. For many years, Schultz Communications also administered the awards, including recruiting an independent panel of garden writers and editors to be judges. It also ran the public relations program which generated thousands of dollars of publicity for the Direct Gardening Association every year–and millions of positive impressions about the benefits of gardening and buying garden products online.
Today, the Green Thumb Awards program is the most visible program of the DGA, and it is the most successful program ever launched by the Direct Gardening Association.