Randall D. Schultz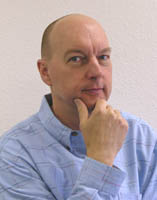 With more than 25 years of experience in public relations, advertising and marketing, Randall D. (Randy) Schultz has provided a wide range of marketing services for a wide variety of clients in the home and garden, healthcare, real estate, insurance, environmental services and financial industries.
Randy oversees the strategic development of marketing and communications plans for our clients. His mission, after reviewing the best possible public relations and advertising opportunities with the client, is to create a marketing plan that will take advantage of untapped market potential.
Prior to founding Schultz Communications, Randy served as Director of Corporate Communications for R&B Enterprises, a Los Angeles-based commercial real estate firm. He directed the marketing functions of this national company, producing company publications, brochures and audiovisual materials that were used to promote the Oakwood Apartments chain and R&B-managed commercial properties.
Randy also served as Communications Director for Financial Corporation of America, parent company for what was then the largest savings and loan in the USA; and he served as Advertising Manager for PennCorp Financial, a Southern California-based insurance holding company. Randy also conceived and published The Consumer's Guide to Planet Earth , the nation's leading reference guide to environmentally friendly products and services, from 1990-1995.
An avid gardener, Randy is also a Lifetime Member of the Albuquerque Area Extension Master Gardeners and a frequent radio show guest on a wide variety of home and garden topics.